Donations support Mo Beef Kids' mission of providing more beef, more often in local schools.
This program year, Mo Beef Kids (MBK) will benefit from cattle donations made by Green Acres Farm, owned and operated by Novus International. Their generous beef donations will support multiple schools in Montgomery, Audrain and Shelby counties.
MBK connects schools and their foodservice professionals to Missouri farmers and ranchers to provide more beef, more often on school lunch trays, while also sharing the story of beef production and nutrition.
"We appreciate the opportunity to be able to support the community around us and help give people a reason to see animal agriculture and research in a positive light, not to mention the positive impact our donations can have on making protein-rich food available to kids," said
Chelsie Foran, Research Manager for Green Acres Farm, Novus International.
MBK began in 2017 with one pilot school and has since expanded to nearly 50 schools across the state.
"To provide additional beef meal options and highlight the story behind our food plants a seed with young people, and we hope as a result they will become lifelong beef consumers," said MBK Program Director Luella Gregory. "Farmers and ranchers have a wonderful story to tell. To share this story in the cafeteria and classroom provides an impactful experience. Supporters like Novus make this possible."
Caren Blaue, also a donor to the program, started MBK in Wellsville-Middletown, one of the schools benefiting from the donations.
"As a cattle producer, local school board member and parent, I value the donation and support of Novus, which allows us to serve additional beef meals and make a direct impact in our small community," Blaue said. "It is important that our young people have access to protein and the knowledge of how it gets to the plate."
Novus International works to help improve efficiency and profitability of beef production through nutrition. They believe MBK provides the opportunity to further their commitment to the beef industry and education.
"It's extremely important to educate our youth on where their food comes from," Foran said. "If we don't do our part in this, they're going to get their information from sources that perhaps are not the most reflective of science-based information on animal agriculture. It's also important to teach kids the nutritional benefits beef offers so they can make informed decisions about diet as they get older and have more freedom to do so."
Novus International is a global leader in health and nutrition solutions for the animal agriculture industry, and is headquartered in St. Charles, Mo.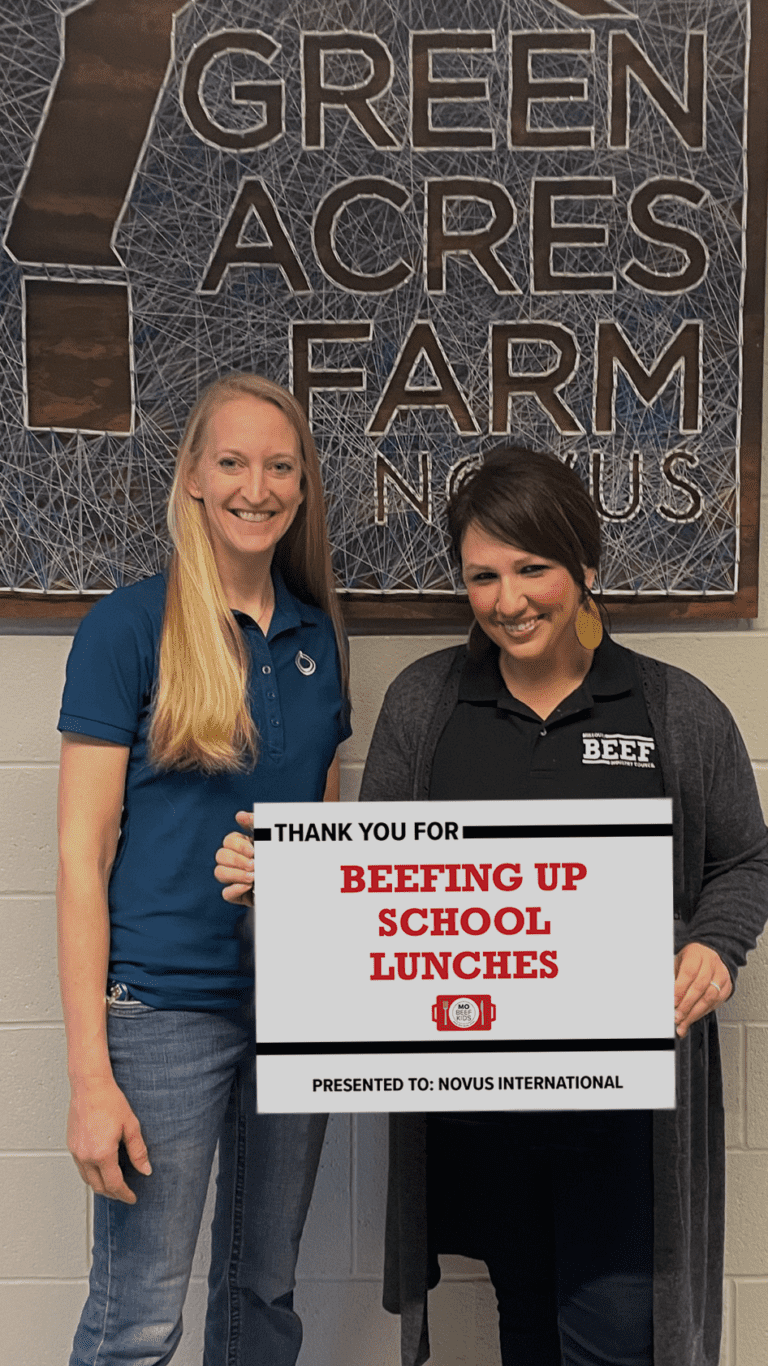 Chelsie Foran, Research Manager for Green Acres Farm, Novus
International and Luella Gregory, MBK Program Director