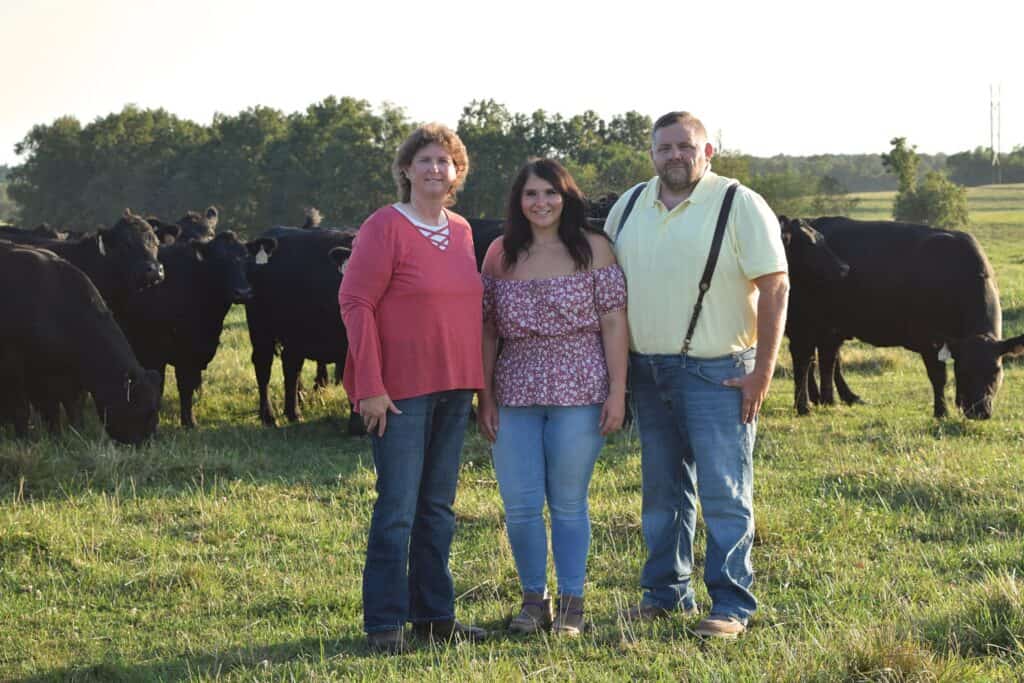 A charming farmhouse nestled along a rural highway with pastures of cattle and a big red barn is where the Blaue family calls home. Ryan and Caren Blaue, along with their daughter Emily, have been a part of the cattle industry for over 20 years. The Blaues started their small cattle herd on a piece of pasture in Wellsville, Missouri, which was given to them from Caren's grandparents. Their purebred Angus herd of five head has grown tremendously since it started in 1998. While the Blaues still raise purebred Angus cattle for bulls and replacement heifers, they have added a small herd of Simmental cattle Emily started as an SAE during her time with the Wellsville-Middletown FFA Chapter. 
The Blaue family became involved with Mo Beef Kids after hearing about the program through the Callaway Montgomery County Cattlemen's Association. They decided to donate beef to the program to support the school and community where both Caren and Emily were raised. They had a cow they were going to ship to the local sale barn, which made their decision to donate even easier. 
"The program is a really neat idea to share Missouri beef with students," Caren said. 
Thanks to their donation and efforts, Mo Beef Kids was implemented in the Wellsville-Middletown school district soon after and has been in place for the last three years. Ryan works at the school and has seen students' excitement about having more beef on their lunch trays firsthand. 
Having attended the school herself, Emily says, "unfortunately, for a lot of those kids, some of the only solid meals they get are the ones from school, so not only does it make these students' school experiences better, but in turn they bring that back to the community and into their homelife." 
In addition to Wellsville-Middletown, the family has played a hand in starting the program with other local school districts, including Community R-VI and North Callaway. At the Wellsville-Middletown school district specifically, there are typically three donors to support the program for a given year. Caren said in 2019, the school board went together with their personal funds to buy a student's calf at the local county fair and then proceeded to donate that beef to the school. This year, the school received a generous donation from NOVUS, Int. to supply even more beef, more often. The school district has worked closely with their food service, Opaa! Food Management, to ensure beef year-round on students' lunch trays. 
When it comes to finding donations, Caren says that overall, it has been an easy process. After making personal phone calls to local farmers and talking about the program, most have been very willing to lend a helping hand. 
"They want to see there be good school lunches for local students and know their beef is well-utilized," she said. 
As donators to the program, the Blaues believe their community will play a major role in ensuring Mo Beef Kids remains a vital aspect of the school, providing both beef in the cafeteria and education in the classroom. The Blaues can see the Mo Beef Kids program continuing for years to come and gaining further support from members in their local community.  
A special thank you to the Blaue family for their generous support of Mo Beef Kids and the leadership role they play in the beef industry and community.
To learn more, visit mobeefkids.com.